Regular price
Sale price
$12.00
Unit price
per
Sale
Sold out
In the October issue of ArtReview, Jessica Lanay writes about Rirkrit Tiravanija, the subject of a retrospective at New York's MOMA PS1, Chris Fite-Wassilak addresses the legacies of Mike Kelley on the eve of a retrospective at the Bourse de Commerce, Paris, and Martin Herbert zeroes in on the extraordinarily diverse range of interests on display in a retrospective of Harry Smith at the Whitney, New York. Marv Recinto reports on the work of Rory Pilgrim and Helen Cammock in the context of UK artists centring their practices on care work, while a doctor and a nurse tell distinct stories about art, medicine and the 'postpandemic' present. Emilie L. Gossiaux is interviewed about a body of work richly informed by a dog, Adam Thirlwell revisits avant-garde novel and artwork DICTEE (1982), Amber Husain writes about the Chicago-set television series The Bear (2021–) and Jamie Sutcliffe goes behind the scenes of animated cartoons. Plus: the full complement of exhibition and book reviews from around the world.
What's inside the issue?

 Art Observed


The Interview Emilie L. Gossiaux 

by Emily McDermott

Writing Practice 

by Adam Thirlwell




Feeding the Rich 

by Amber Husain

Politics of Hate 

by Deepa Bhasthi

Tortuous Tunes 

by Jamie Sutcliffe



Art Featured


Rirkrit Tiravanija 

by Jessica Lanay
Mike Kelley

 

by Chris Fite-Wassilak
Performing Care

 

by William Gass
Rory Pilgrim & Helen Cammock  by Marv Recinto
Art & Medicine  by John Quin


Harry Smith 

by Martin Herbert


Art Reviewed
35th Bienal de São Paulo, by Oliver Basciano
Ugly Painting, by Claudia Ross
Etel Adnan & Simone Fattal, by Jasmine Reimer
Gabriel Massan & Collaborators, by J. J. Charlesworth
Pam Evelyn, by Tom Morton
Neo Rauch, by Digby Warde-Aldam
Iannis Xenakis, by Athanasios Argianas
Tolia Astakhishvili, by Martin Herbert
cameron clayborn, by Jenny Wu
Converge 45, Jonathan Griffin
Dominik Lang, by Max L. Feldman 
My Past is a Foreign Country, by Carlos Kong
Blakytna Trojanda, by Phoebe Blatton 
How Many Worlds Are We?, by Max Crosbie-Jones
Suchitra Mattai, by Jenny Wu
Rebecca Moss, by Lara Pawson
Trust Me, by Cassie Packard
Sola Olulode, by Madeleine Jacob 
Inventing the Rest, by Salena Barry
Socorro!, by Lucy Raven, reviewed by Fi Churchman 
The Variations, by Patrick Langley, reviewed by Alexander Leissle 
The Upside-Down World, by Benjamin Moser, reviewed by Oliver Basciano 
The Future Future, by Adam Thirlwell, reviewed by Mark Rappolt 
Viewing Velocities, by Marcus Verhagen, reviewed by J. J. Charlesworth 
Latin American Artists: From 1785 to Now, edited by Rebecca Morrill and Maia Murphy,
reviewed by Oliver Basciano

Arbuckle's Amazing Adventures



Shipping & Returns Policy

Shipping costs calculated at checkout. All items delivered by a tracked service. We aim to dispatch within 48 hours and deliver within 7-10 days thereafter (depending on size, weight and location).

We do not accept returns for magazines, but we may be able to offer you a replacement or refund if the wrong item arrives or it turns up damaged.
Explore the digital version
View full details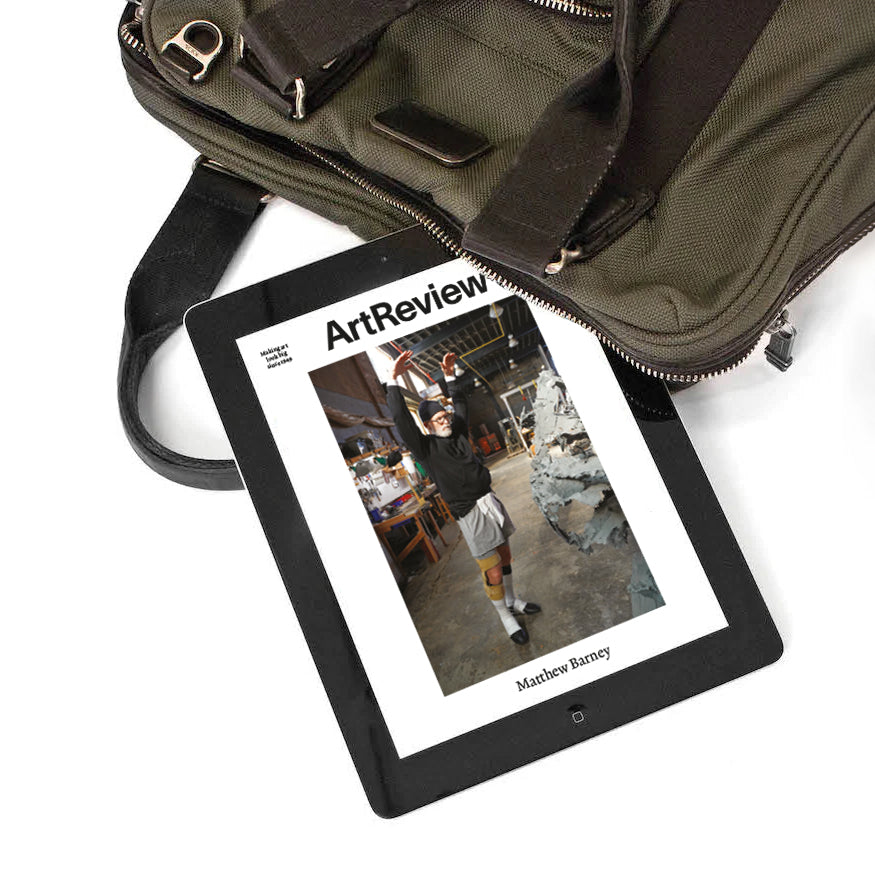 Check out the digital archive
Get a digital only subscription or enjoy FREE access to our digital archive of 190+ issues for the duration of your print subscription
EXPLORE THE ARCHIVE
Not many left on the shelves