Regular price
Sale price
$12.00
Unit price
per
Sale
Sold out
ArtReview Asia's Winter issue features cover artist Citra Sasmita, whose largescale installations and paintings on fabric scrolls picture the violence of Indonesia's colonial history; Shuang Li's exploration of the theme of fandom via videos, performance and sculpture; Soumya Sankar Bose's photography which upends the documentary method by blending fact with fiction in wide-ranging series that offer a deeply humanising connection to social injustices; Nawapol Thamrongrattanarit, an indie filmmaker whose coming-of-age productions filled with mildly troubled adolescents and listless young adults broadly appeal to a younger generation of Thai twenty-somethings; and photographer Hiroshi Sugimoto talks about architecture, Japanese tradition, Shintoism and the spirit of natural materials. Plus an artist project by Himali Singh Soin and David Soin Tappeser.
What's inside the issue?

 

Art Previewed

Previews by ArtReview Asia
The Interview Hiroshi Sugimoto by Lance Henderstein
Not Silenced by Frances Forbes-Carbines
Razzle-Dazzle Art by Max Crosbie-Jones



Art Featured

Citra Sasmita by Adeline Chia
Shuang Li by Stephanie Bailey
Namak Nazar by Hylozoic/Desires Artist project by Himali Singh Soin and David Soin Tappeser
Soumya Sankar Bose by Najrin Islam
Nawapol Thamrongrattanarit by Max Crosbie-Jones


Art Reviewed

Exhibitions & Books
12th Seoul Mediacity Biennale, by Ophelia Lai
Jogja Fotografis Festival, by Mira Asriningtyas
Jewyo Rhii, by Mark Rappolt
Cosmic Beings, by Tai Mitsuji Maryanto, by Marv Recinto
Cian Dayrit, by Martin Herbert
Snare for Birds, by Portia Placino
Phumzile Khanyile, by Matthew Blackman
Jinjoon Lee, by Yuwen Jiang
World Classroom, by Lance Henderstein
White Noise, by Hung Duong
María Magdalena Campos-Pons, by Zoë Hopkins
Midnight's Third Child, by Naeem Mohaiemen, reviewed by Mark Rappolt
Contemporary Queer Chinese Art, edited by Hongwei Bao, Diyi Mergenthaler, Jamie J. Zhao, reviewed by Yuwen Jiang
Tellurian Drama, by Riar Rizaldi, reviewed by Adeline Chia
Monica, by Daniel Clowes, reviewed by J.J. Charlesworth
Selected Nonfiction, 1962–2007, by J.G. Ballard, reviewed by David Terrien
Artists Making Books: Poetry to Politics, by Venetia Porter, reviewed by Nirmala Devi

COMIC by Justin Wong
Shipping & Returns Policy

Shipping costs calculated at checkout. All items delivered by a tracked service. We aim to dispatch within 48 hours and deliver within 7-10 days thereafter (depending on size, weight and location).

We do not accept returns for magazines, but we may be able to offer you a replacement or refund if the wrong item arrives or it turns up damaged.
Explore the digital version
View full details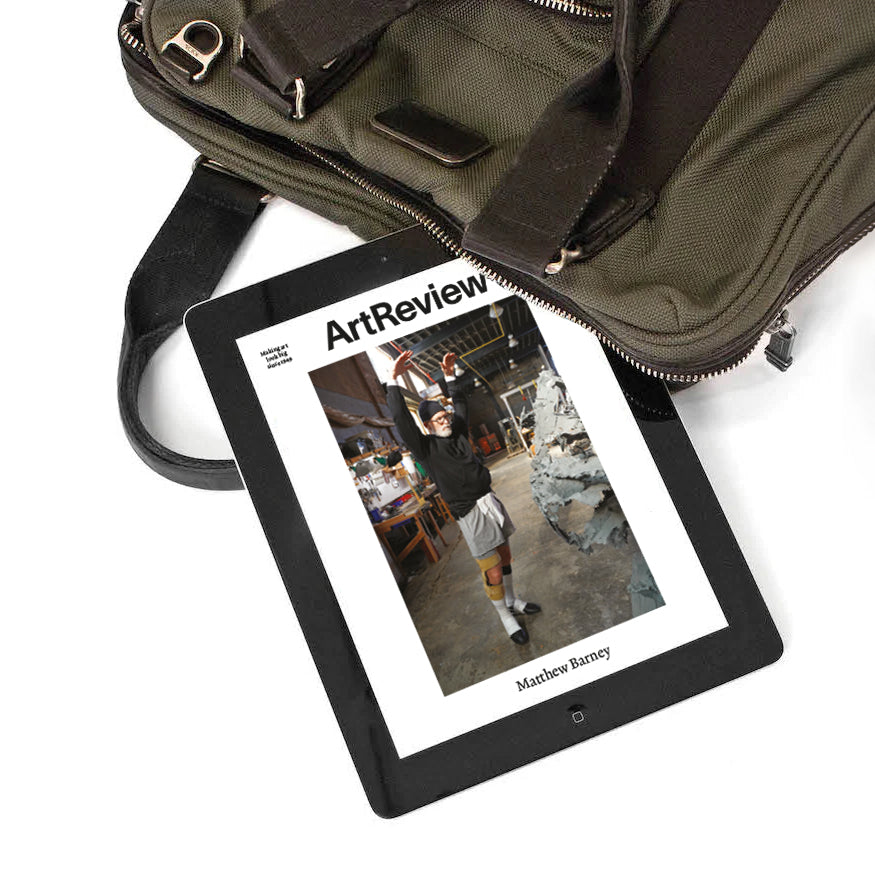 Check out the digital archive
Get a digital only subscription or enjoy FREE access to our digital archive of 190+ issues for the duration of your print subscription
EXPLORE THE ARCHIVE
Not many left on the shelves